The primary purpose of figure painting, or the depiction of any kind of figure in art aims at the communication of human experiences. In various cultures, human forms have been found on objects of everyday use, illustrated in an artistic way. These were mainly used for religious purposes and during rituals. Figure painting accounts for being a form of cultural expression. It is important for you to know about the relevance of figure painting in modern art and education, and whether figure art still indicates cultural, spiritual, and religious symbols.
Interdisciplinary approach to today's fine art education
In the modern world of art, technical and material innovations privileging ephemeral digitally focused methods have influenced how art courses develop. Nowadays, 4D practices are used in which students are taught digitally based work.
The position of figure painting in Art education today
The relevance of figure painting in modern art education is questionable. However, by looking at the various art courses at renowned institutions it can be concluded that figure painting is still present and is till quite an active form. Modern institutions offer classes on anatomy and anatomical drawing classes. Introductory classes in painting are offered where painting from still life set ups are taught. Summer classes and side projects offer students the opportunity to improve their figure drawing skills. Pencil sketching, study of nudes and still life set ups are also focused on in modern day art education courses.
Value system and parallel worlds
The major art education centers today dictate trends and supports the nature of contemporary art as rule breaking. Modern day figure painting is associated with abstract art. There are many examples which prove how the two approaches have merged into one. Although it was regarded as a skill of the old masters, figure paintings are kind of making a comeback in the world of modern art education. Figure art is like an essential book which you need to return to, once in a while. Many new artists focus on 3D drawing and hyper realistic painting is on a rise today. Many artists are realizing that drawing skills are very important, which is required for working on digital animations and other computer based art. The modern art education system allows its students to have their choices throughout their years of education. Students are introduced to various art disciplines right from the beginning of their art courses. Modern art students are given much more freedom of choice in going for what they love or what appeals to them the most.
The art of figure painting is still quite alive and modern approaches of figure painting are focused on. Figure painting has merged with other styles of modern art, and continues to occupy a special place in the world of art education. Many modern students love figure painting and has a realistic approach towards art. Many new artists are dedicating their art careers for creating amazing realistic figure paintings. As a part of modern art education, figure painting is still considered to be the roots of representational art, which has been evolving over ages rapidly.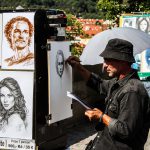 Hi! The figure painting is a fine artwork on any form of painting media. The primary subject of figure painting happens to be the human figure.