To capture any form of likeness you need to have need to have a good drawing sense, proper color values and make smart choices pertaining to colors. Say for example, when you paint an onion, no one will ask you how it looks as you saw something in front of you. But that is seldom not the case with figure painting and it should resemble the subject. In fact the character as well as the personality of the subject should be captured in detail. It would be a better idea to break the subject in question into several parts.
Before we proceed further we need to understand on what is a  pastel painting in the first place? It is a powdered form of a pigment and a stick is used to bind it.  The finished pieces of it resemble a painting on all counts. Though it is popular among the artists yet there are some safety concerns pertaining to it at the same time. Before you venture out to pay pastels undertake a systematic evaluation of all the attributes  of pastels such as color, composition etc.  Then you need to understand on what type of surfaces can accept these pastels and which of them are not suitable. You can then need to find out what extra accessories would you need with these pastels. This could be in the form of blender or sharpners.
Rather than straight away getting to the drawing aspect, it is important to start with the mapping method where you can capture the important elements of the face. You will tend to observethe  shapes and values as and when you enter the deep end of painting. As an artist you will work on the background and the painting in the same time. As an artist, you may feel that you have mastered the art of oil painting, but you need to understand the fact that the oil painting technique is something entirely different. One can work the way in which they like and there are not bound to be any form of oil constraints. A point to consider is that unlike oil painting, you cannot conceal darker colors may be with the dark ones. Generally, most of the colors that are used tend to be home made in nature.
When you learn to paint with pastels it does not need to be professional in design as one can adopt the method of tracing. But if you are aware on how to draw the face can jump straight away to the face and draw any design. Then you can play around with pastels. Most artists paint animals on pastel but you can paint anything under the sun with it. Before you start things you need to select the appropriate paper and the materials that are necessary for undertaking any form of pastel activity. Many brands of pastel are available in the market, and you need to choose one that is affordable.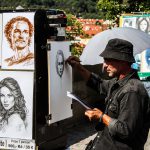 Hi! The figure painting is a fine artwork on any form of painting media. The primary subject of figure painting happens to be the human figure.